All you need to start learning to fly is an appointment and a check or credit card.
It's really that simple.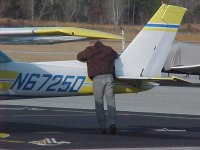 When you arrive, you'll get a briefing from your instructor on what to expect, then you'll learn how to do a preflight inspection of the airplane. Climb in, get comfortable, adjust your seatbelt and headset, and off you go.
You'll fly from the very beginning, with your instructor helping you through the takeoff and initial climb. The weather's good, so you'll fly out to the local practice area where you'll get a sample of some of the many maneuvers you'll later master in your training. You'll do "The Four Fundamentals" -- turns, climbs, descents, and straight and level flying. You'll do some ground reference maneuvers, flying your airplane in a perfect circle above a landmark or in a perfect square around a farmer's field. Of course there'll be time for a little sightseeing too, because what's the use of flying without getting to look around.
Too soon, it's time to come home. Your instructor will show you how to get back to the airport, enter the local traffic pattern, and land the airplane.
Your adventure is just beginning.