Private Pilot Flight training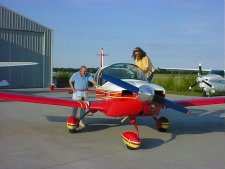 You'll begin your flight training in earnest on your very first lesson. You'll learn how to inspect the airplane before you fly and start getting the feel of it as you fly out to the practice area. Your first flights will teach you how to control the airplane and how to divide your attention inside and outside the cockpit. You'll learn a number of "ground reference maneuvers" that require you to fly in a precise path over or around some object on the ground. You'll learn turns and climbs and descents. You'll practice many, many landings with your instructor guiding you through. One day, though, everything will click. You'll be on top of the game. The winds will be light. The traffic pattern will be empty. And suddenly your instructor has something else he just has to do. You'll solo -- you will pilot the airplane around the pattern for your first takeoffs and landings all alone. Of course, your instructor really doesn't have something else to do -- he's out there watching you. And you can bet that when you get back, he'll be there to cut off your shirttail in celebration.
After solo, you'll fly some alone and some with your instructor. You'll get practice flying cross-country to other airports, and we'll make certain you're good at all the ways to navigate. Sure, we have GPS equipment, but you're going to be proficient at pilotage and dead reckoning first. You'll explore different airports, you'll go to airports with control towers, you'll fly at night, you'll fly in different weather conditions. We'll show you short fields and grass fields and long miles of paved runways. And always, you'll practice-practice-practice takeoffs and landings.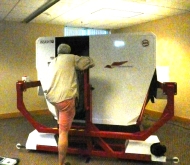 Most of your training will be in an airplane, but some of it, both before and after solo, will be in the Redbird FMX Advanced Aviation Training Device. Why? It's great for two things in particular: showing you things we can't or won't do in the airplane and drilling you on things that need lots of repetition. We can show you, for instance, what happens when a magneto or an alternator fails. We can practice simulated engine failures or flight into deteriorating weather. We can show you what it's like to try a takeoff from a high altitude, high temperature airport. Most student pilots are nervous about their first trips to airports with control towers, but some practice in the simulator first helps tame the nerves. Learning VOR navigation or the operating logic of the Garmin radios is much easier and cheaper in the simulator.
Ground training
Ground school will give you the understanding necessary to pass your FAA Knowledge Test. You will study basic aerodynamics, aircraft systems, weather, navigation, and flight physiology. Sound intimidating? It's not, really, since you will build your knowledge block by block.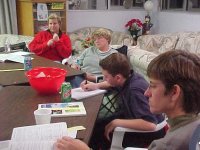 There are several ways to go about ground training. We run a classroom ground school, usually held at night. You'll hear lectures and see demonstrations from all our instructors, as well as have a chance to interact with other students. We'll give you tips on passing the Knowledge Test and make sure you're familiar with the format as well as the subject matter. The popcorn's even hot!
Some people prefer to self-study for the Knowledge Test. Again, we have all the materials you need, from tried-and-true books to new computer based training. As always, we'll work with you to ensure you master it all.
Flight check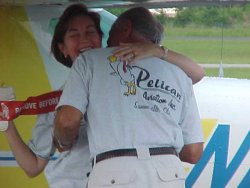 When you have passed the Knowledge Test, completed the pre-requisites set out by the Federal Aviation Administration, and satisfied your flight instructor that you're ready to assume the responsibilities of a safe pilot, you'll be endorsed to take your final exam -- the flight check. For this, you'll work with an examiner designated by the FAA. He'll give you an oral exam first, to test your understanding and application of the rules, then you'll demonstrate, in flight, all the things you've learned. When you're finished, the examiner will write out your new certificate on the spot and you've joined an elite group. Congratulations!
So what's next?
Instrument training
After you've earned your private pilot certificate and have reaped some of the rewards of your efforts, it's time to think about an instrument rating.
You already know how to fly. Now you'll learn to fly very, very precisely and without being able to see out the window.
Your first flights as an instrument student will give you a chance to determine power and pitch settings for your airplane which will yield predictable, repeatable performance. Instrument flying is not a time to "wing it" -- you will need to be able to set up the airplane quickly and precisely for everything you do. Once you know exactly what the airplane will do in various configurations, it's time to put on the hood and get to work.
Just as you did as a student pilot, you'll practice a number of exercises designed to develop and hone your instrument scan and your control of the airplane. You'll fly the instrument equivalent of ground reference maneuvers -- charted, timed patterns that help you prepare for the approaches you'll do later. You'll practice "partial panel" work, flying without benefit of the gyroscopic instruments. You'll refresh many things you learned as a student: timed turns, unusual attitude recovery, steep turns, radio navigation.
Although most of your flights will be in the airplane, you'll also train in the Redbird FMX AATD (Advanced Aviation Training Device) run by our training partner CRAFT. Instrument training and a full-motion simulator are a perfect match -- you'll be able to drill on procedures and maneuvers without having to waste time repositioning the real airplane. Your instructor can pause the simulator at any time to let you see where you are and what's happening. You can practice approaches at far-off airports. Twenty hours of your simulator time counts toward the requirements of your instrument rating.
You'll learn much more about weather and air traffic control than you needed to know as a student or even as a private pilot. You'll also learn an entirely new set of rules and regulations. Obviously, there's a lot of ground school involved.
As your skills improve, you'll begin to learn how to operate as an instrument pilot. You'll take many trips, long and short, where you don't see the ground from just after takeoff to just before landing. You'll learn how to navigate solely by instruments, how to read low altitude charts, and how to fly instrument approaches into strange airports. You'll learn to talk with controllers like a pro. Some of your flights will be done wearing goggles so you can't see out the window and some of them will be done in actual instrument conditions.
You'll take a knowledge test given by the FAA before you take your checkride. This test is harder than your first one, and covers radio navigation, weather, regulations, instruments, charts and publications, emergency procedures. When you've passed the test and you're proficient in all the things you'll need to do, your instructor will sign you off for your checkride. As before, you'll go out with someone designated by the FAA to demonstrate the things you've learned. At the end of your test, just like before, the examiner will write out your new certificate on the spot.
So what does this do for you? It's NOT an all-weather ticket. You're still flying a small, low-powered aircraft that can't handle the same conditions as a heavy jet, but the training has augmented your skills and polished your technique. You're more fluent in communicating with flight service and controllers and you'll be able to take full advantage of the air traffic control system, which can simplify navigating through new and complex airspace. You'll know much more about weather systems, and you'll be able to fly in some conditions that would previously have had you sitting on the ground. You'll also have the confidence and satisfaction that comes from advancing your education.
Have a Cirrus?
Wouldn't you rather do your training here in balmy, subtropical breezes rather than at a snow-bound factory?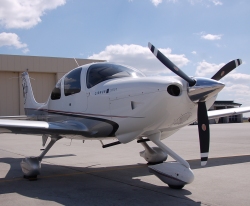 Palmetto Air Service offers primary and instrument training in your Cirrus from a factory-qualified Cirrus Standardized Instructor Pilot. CSIPs are trained and evaluated by specialists at Cirrus headquarters, and follow the same training program that Cirrus uses in its factory instruction. Standardized operations manuals, syllabus, and procedures ensure consistency within the Cirrus training network.
We offer transition training for licensed pilots new to the Cirrus, refresher training, and initial training for students just starting out. Our training partners at CRAFT have a Cirrus SR-20 simulator available, and part of your familiarization training will take advantage of it.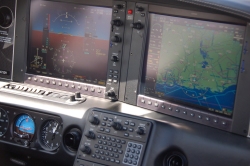 Visual Flight Rules transition training emphasizes aircraft control, engine management, avionics and autopilot use, and emergency procedures. You'll learn the best ways to set up and use the primary and multifunction flight displays and communications radios. Instrument Flight Rules transition is designed to develop proficiency in use of the airplane's sophisticated avionics and autopilot in the IFR environment. You'll become proficient in flying instrument procedures in the real world, and the training can be completed with an Instrument Proficiency Check.
If you've been flying for a while -- or even if you've been away from it for some time -- an airmanship refresher course is just the thing to sharpen your skills. We'll work on takeoffs and landings, aircraft control, slow flight, stalls, and emergency procedures. If you're instrument rated, we'll also work on some of those instrument procedures you don't have to do very often in the real world -- circling approaches, holds, emergencies, missed approaches.
Is there more?
You bet. The possibilities are endless. How about a commercial certificate? Seaplane rating? A tailwheel endorsement or a high performance endorsement? High altitude training? Aerobatics? Multi-engine? We can teach you some of those, and we can point you toward schools with the right equipment if we don't have it. We also do recurrent training, instrument proficiency checks, and flight reviews. Need something special? We can probably put it together for you.